---
P.R.
NEW! October 6, 2022 – VENTI Group selects 3M as a Supply Chain Partner for use in its Advanced Line of Transparent Antennas
VENTI Group, the leader in DAS, Wi-Fi and IoT Wireless antenna design and manufacturing, announces today that it is utilizing 3M materials in the design of VENTI's low profile, unobtrusive transparent antennas. VENTI's Industry-leading innovation of proprietary and patented antenna designs and manufacturing techniques have achieved several critical breakthroughs in Wireless applications.
January 5, 2020 – VENTI supplies global telecommunications equipment supplier with multiple DAS antennas
VENTI is providing this global supplier with its line of EDGE™ DAS Antennas including Mini, Ultra-thin, Omni and Directional MIMO & SISO, as well as its Venue Antenna.
Nov 9, 2018 – The VENTI Group's CORE™ Antennas in Global Hotel Chain
VENTI CORE™ Antennas have been installed as part of a major renovation of this major global hotel chain's downtown Houston location.
Jul 16, 2018 – New Tech Armor ENHANCE Screen Protector Embedded with CLEAR™ Technology for iPhone Blocks Radiation, Improves Battery Life and Signal Strength
Available for the latest iPhone models, ENHANCE features CLEAR Technology that seamlessly redirects radiation away from the head and brain, giving you peace of mind.
Nov 27, 2017 – VENTI CORE™ Antennas in Retail Operation of American multinational technology company
Opening its flagship store in Downtown Brooklyn, New York, VENTI CORE™ Antennas were installed to enable cell phone connectivity for both employees and guests.
Jul 07, 2017 – VENTI Group CORE™ DAS Antennas are powering a Verizon Network in Louisville. VENTI CORE™ SISO antennas are in use in a 1.3 million sq ft conVENTIon center
CORE™ SISO Antennas are revolutionary and market disruptors delivering faster throughput, better coverage, and consistent reliable connectivity.
Apr 23, 2017 – VENTI Group CORE™ DAS Antennas are installed at a premier 1,000,000 sq ft venue in Philadelphia
VENTI Group CORE™ MIMO Antennas are currently being installed at a 1,000,000 sq ft Convention Center, host to the 2016 Democratic National ConVENTIon in Philadelphia.
Nov 01, 2016 – VENTI Group Announces The New CORE™ Low PIM Mini MIMO Antenna
The New CORE™ Low PIM In-Building Multi-Band Mini MIMO Antenna. The CORE™ MINI MIMO Antenna delivers a super low profile and an incredible low PIM of ≤ -153 dBc, supporting all carrier bands: 698 – 2700 MHz, in the smallest form factor ever.
Oct 27, 2016 – VENTI Group Enters Into An Agreement To Supply a major American supplier of mobile Internet access for wireless-enabled devices
This major American company serves consumers, carriers and advertisers worldwide and has acknowledged the superior performance of VENTI Group's CORE™ wireless antennas by awarding VENTI a supply agreement to provide its advanced line of DAS antennas.
Oct 25, 2016 – The New VENTI™ Automotive Antenna, The Future of Automotive Hi-Speed Connectivity
The VENTI Group introduces an Antenna Assembly for Automotive Applications, a Patented Antenna Design for Far & Near-field Sensors, V2V, Radar, GPS, Wi-Fi and Other Applications.
Oct 19, 2016 – Introducing The New VENTI™ Transparent Antenna, The Key to All IoT and Smart Cities Applications
The VENTI Group has introduced a transparent antenna with a transparent feedline for applications on building glass and M2M plastic enclosures in Internet of Things and Smart Cities Applications.
Dec 03, 2015 – VENTI Group Is Pleased To Announce The Release Of Its Dual-Polarized CORE™ LTE Panel Antenna
The New CORE™ Dual Polarized LTE Panel Antenna is a perfect addition to your LTE Distributed Antenna System Network and can be used in conjunction with the CORE™ DAS Multi-Band MIMO and SISO, or to supplement existing LTE Antennas installations.
Oct 28, 2015 – VENTI Group Announces The New CORE™ In-Building DAS Multi-Band SISO Antenna
VENTI Group is pleased to announce an addition to our line-up of revolutionary antennas, The CORE™ Super Low PIM In-Building DAS Multi-Band SISO Antenna for all carrier bands.
Oct 06, 2015 – VENTI Group Announces The CORE™ In-Building DAS Multi-Band MIMO Antenna
VENTI Group announces The New CORE™ Low PIM Rated Dual-Polarized Omni Ceiling Mount Indoor DAS Multi-Band MIMO Antenna, supporting 698 – 2700 MHz, 3.0 – 3.6 GHz and the 4.9 GHz Public Safety Bands.
Other Press Releases Available Upon Request.
ARTICLES
VENTI Using Materials from 3M to Develop its Line of Transparent Antennas
The new VENTI transparent antennas support DAS, Wi-Fi and IoT applications and are designed to meet the increasing demand for Wireless antennas that are high performing and unnoticed. – Editorial Team – Everything RF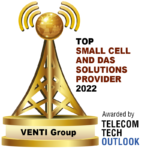 VENTI – The DAS Antenna Leader
"VENTI Group has just released a complete line of ULTRA™ Transparent antennas for DAS, WiFi and IoT." – Telecom Tech Outlook
VENTI Group Unveils Multi-Band MIMO Antennas for Public Safety
"The New CORE DAS Multi-Band MIMO Antenna delivers high performance by utilizing polarization diversity and a Low PIM Rating of -153 dBc or better across all frequency bands" – CIO Review – Telecom CIO
Antenna Technology Design and PIM
"As these designs become more and more complex the value of a low PIM requirement is not only desired but required." – David Hoglund – Integra Systems + What is PIM?
VENTI Group Provides Clean Wired and Wireless Connectivity
"Overall, VENTI Group is experienced at facilitating clean, consistent connectivity in a number of situations. Best of all, its products are backed by a team of highly experienced engineers." – Rory Lidstone – Mobility Techzone
A Tale of Two Antennas
"… This is potentially a very big deal." – Craig Mathias – Network World
VENTI Group Intros Open-Ended EMI/RFI Suppression Sleeve
"In an effort to provide the industry with an EMI/RFI suppression solution that replaces 1/4 wave chokes, stubs and ferrite cores, VENTI Group has developed the first cost-effective open-ended RF suppression sleeve for frequencies in UHF to Microwave." – Jayashree Adkoli – TMCnet.com
CORE™ Antenna: A big signal from a small package
"Antenna systems have been in the news lately, thanks to the iPhone's antenna issues. Apparently, compromises were made. A new antenna design may have prevented that." – Michael Kassner – Tech Republic
Other Articles Available Upon Request.