The VENTI Transparent Antenna Collection
Introducing VENTI's Game-Changing Transparent Antennas! Experience unmatched transparency and exceptional performance across all frequencies. Say goodbye to unsightly antennas and hello to seamless integration. Upgrade to VENTI for a visually stunning and high-performing Wireless experience!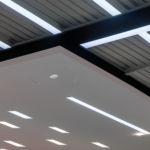 Eliminate DAS installation issues caused by antennas performing differently than the installation maps.
VENTI DAS antennas not only meet all carrier specifications, they perform to design specs. And they are transparent as well!
VENTI Antennas are SUPERIOR! Superior VSWR. Superior Patterns and Gain. Superior PIM Ratings.
Whether for DAS, Wi-Fi or IoT applications, VENTI leads the way.
For More Information, Contact VENTI Today!